Drive the Arts to Success!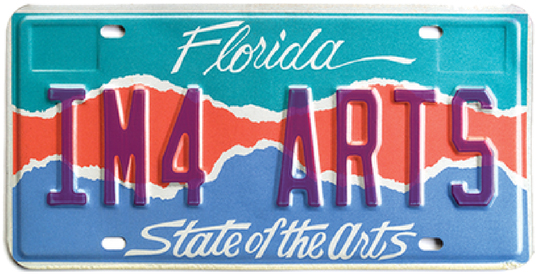 Buy the plate and support LOCAL artists, arts organizations and programs in Okeechobee County. Introduced by the Florida State Legislature in 1994, this speciality license plate raises funds for programming that benefits local arts and cultural projects across the state. Ask for the Florida "State of the Arts" license plate when you buy your tag and $20 of your specialty plate fee will directly support your local arts!
History of the design of the plate.
The State of the Arts tag was designed in 1994 by Hillsborough County artist, Stephen Kline. His design was chosen by an independent panel from among submissions by artists throughout the state. The State of the Art project was a way to raise much needed funds for local  arts agencies which received approval through the Legislature.
Where does the money go?
$20 of every plate fee is tax deductible and gets returned back to the county in which it was purchased. In Okeechobee County, the Okeechobee Main Street Arts & Culture Alliance uses your $20 to fund programs and services in visual, performing and literary arts.
How do I purchase the plate?
Want to purchase a Florida Arts License Plate? Find the nearest tag agency to you. When you renew your registration, just let them know that you want to replace your current license plate with a State of the Arts plate
To buy the arts plate at any time other than your renewal time, simply visit your local tag office, turn in your current plate and receive your new one on the spot.
You can also personalize your plate with up to seven characters, and will pay the usual fee for a personalized plate in addition to the specialty license plate cost.